Mess
Caroline Horton and Chinaplate
Traverse Theatre
set and costumes
Stage Award for Best Ensemble Edinburgh 2012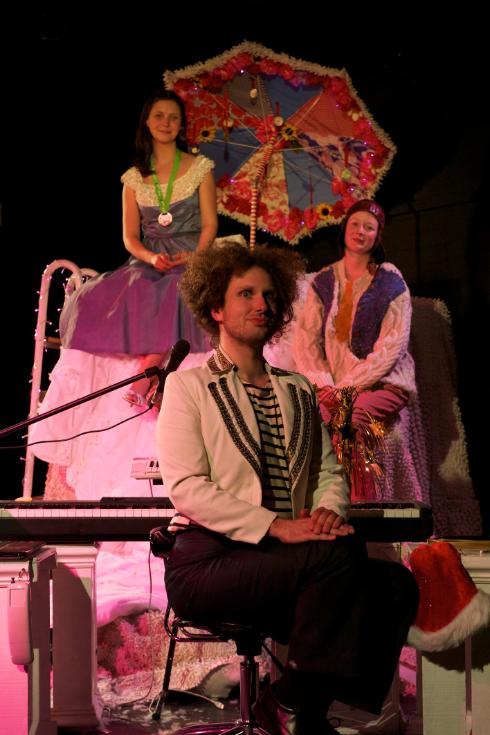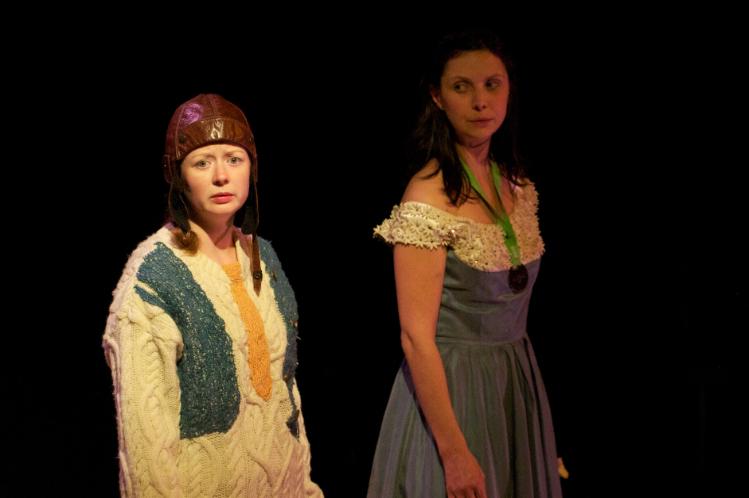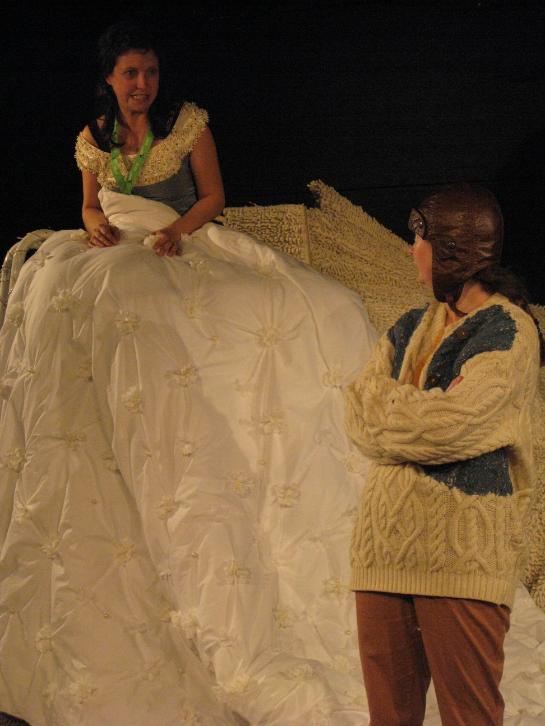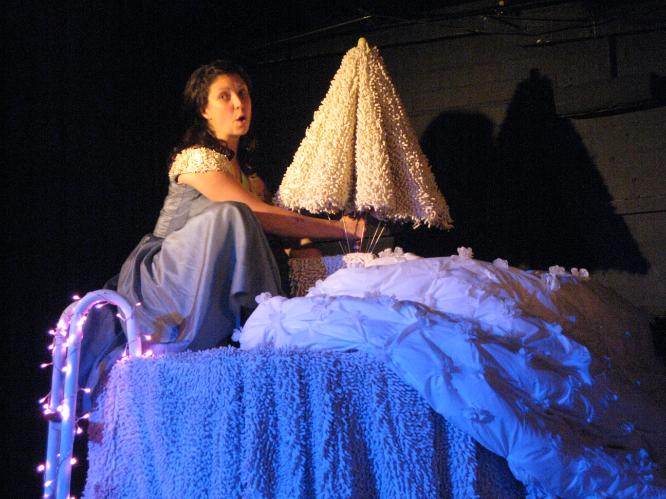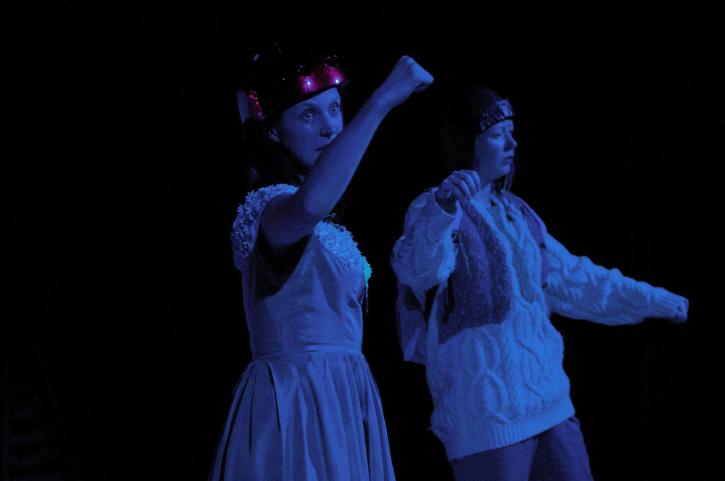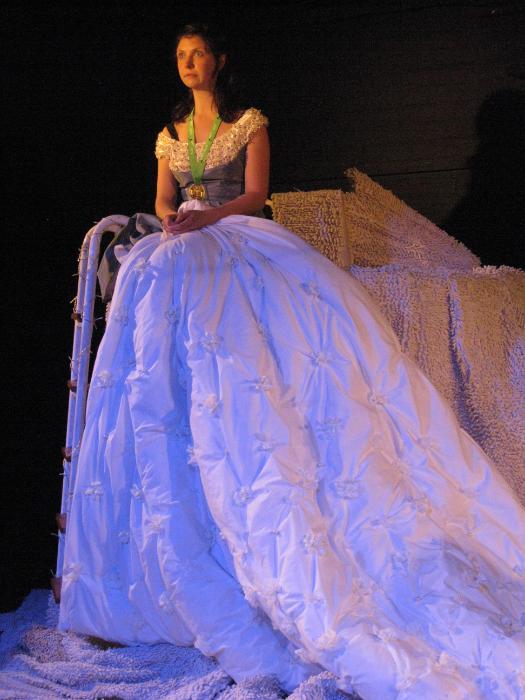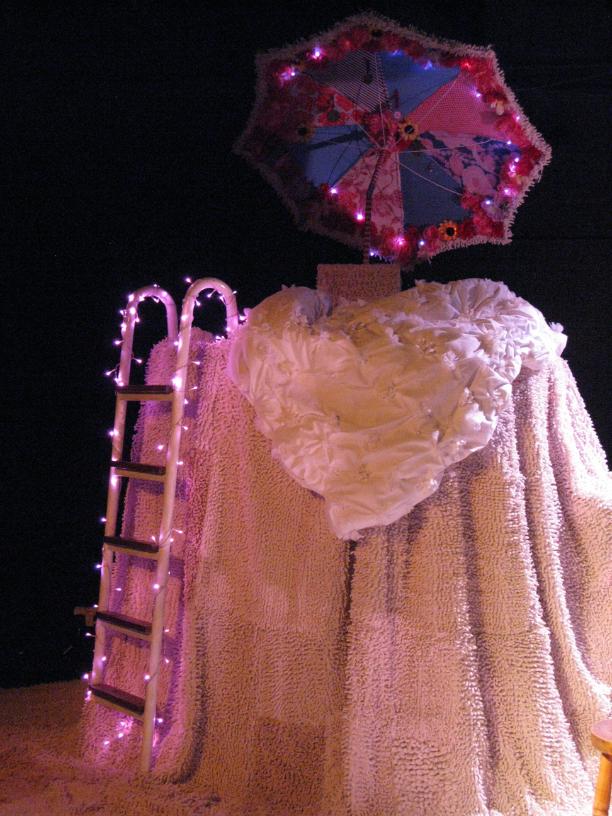 '...the set had a similarly gentle, gradual evolution. ...set designer Fiammetta Horvat came up with her character-led, delicately soft design...'
Mess. 2012. Alice Saville. Exeunt magazine.
it's quirky fairy tale like set designed by Fiammetta Horvat, hides plenty of surprises and many beautiful images.
Mess. 2012. John Roberts. The Public Reviews
...director Swift and designer Flammetta Horvat find strikingly evocative ways of presenting Josephine's journey visually, from symbolising her anorexia by a Rapunzel-like tower in which she hides from the world's impurities to the total mess that is made of the stage at the end to celebrate her recovery.
Mess. 2012. Gerald Berkowitz. TheatreguideLondon
Beneath a pink-lit parasol on a tower of towels, Josephine holds court like Samuel Beckett's Winnie in Happy Days.
Mess. 2012. Neil Cooper. Herald Scotland
Fiammetta Hovat's set invokes comfort and looks like a giant wedding cake with an illuminated swimming pool ladder and a giant cocktail umbrella. The cream filling is a slowly emerging duvet which suggests that the thing which gives Josephine the most pleasure is a dark, confused tangle of food and sleep.
Mess. 2012. Helen Brown. The British Theatre Guide
The set was delicate and brilliantly transformed into a landscape of Josephine's inner mind.
Mess. 2012. Roaming Reviewer.com
The candyfloss and fairy lights aesthetic rubs against the subject matter brilliantly, as it manages to show the world as Josephine sees it.
Mess. 2012. Matt Trueman. NewStatesman
Finally, the piece was tied together by the simple yet symbolic set. Cleverly designed by Fiammetta Horvat, it lent itself to the performance brilliantly.
Mess. 2012. Onestopsart.com
...sits atop a platform under a fairy-light bedecked parasol, like a lonely princess in a children's story...
Mess. 2012. Fiona Hountford.
Evening Standard
The set was delicate and brilliantly transformed into a landscape of Josephine's inner mind.

Mess. 2012.
Roaming Reviewer.com
As Josephine spends a significant amount time buried up to her waist in the tower, it also represents a neat visual reference to Samuel Beckett's Happy Days.
Mess. 2012. Postcard from the Gods.com
Fiammetta Horvat's set represents the concept of anorexia – a huge mound that distances the subject from reality, a warm blanket of comfort and reassurance, and several gold medals that denote weight loss and achievement.
Mess. 2012. Emma Hay. Tv Bomb.com
Josephine's anorexia is represented by a cloud-like duvet and a pink parasol, a soothing place to which one can retreat...
Mess. 2012. Natasha Tripney. The Stage
Anorexia is represented by a high platform covered with white camberwick that stretches on to the floor. Josephine decorates it with a parasol hung with medals (for ounces lost), fairy lights and a duvet. Everything is white, calm, pretty and quiet up there.
...the piece is elegantly lit and staged.
Mess. 2012. Lisa Wolfe. The Total Theatre Review
The stage is partly covered in a white carpet of bath mats, with a step ladder leading up to Josephine's attic bedroom. Here she hides under the soft feather duvet in her nest, her comfort zone where she can escape.
With her long, girly Alice in Wonderland hair and pretty dress, Josephine often appears like a doll...
Mess. 2012. Vivien Devlin. EdinburghGuide.com